---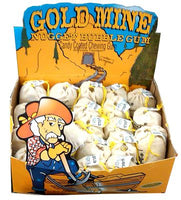 Gold Mine Nugget Bubble Gum comes packed in real cloth pouches cinched with a string! You won't have to chew all your riches at once to keep them fresh and safe. Simply pour a few pieces of this popular St Patrick's Day candy into your palm, and save the rest for a future fruity gold rush! The end of the rainbow was never full of treasures so tasty.
Each pouch is brimming with 2 oz. of Gold Nugget Gum
Fruit Punch flavor - tastes better than gold!