---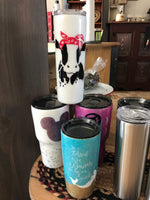 Talk about a fun class for yourself and your friends. You can make a tumbler, wine glass or two you and your family will treasure. 
Come design your own tumbler using paint or glitter and we will have decals for you to add (Including names). Once completed, we will add the glass like finish and it will be ready for pick up 7-10 days later. 
Sign up with link below or call 410-202-8989 with any questions.